We are Hiring
A dream job awaits you
NSDevelopers is looking for motivated individuals and highly professionals to become part of our in-house project team.
Sr. Developer (.Net)
Descriptions:
Your Talent. Our Vision. At NSDevelopers it's a powerful combination, and the foundation upon which we're creating greater care for our members, greater value for our customers. Join us and together we will drive the future.
This is an exceptional opportunity to do innovative work that means more to you at one of Peshawar leading IT Company .
The individual will be heavily involved in all phases of the application – design/develop/test/deploy (database, web, client apps, services and system interfaces). Individual must be able to work independently and handle team members. Interact with the Product, Marketing and other teams in the company to ensure a clear understanding of the solution that will be built.
Education and Experience
Bachelors Degree in Computer Science, Software or IT
The applicant should have a minimum of two-three years of professional experience with Microsoft .NET technologies developing and working with desktop applications. Also, Self-Motivated, Self-Organized, Enthusiastic and good problem solver.
Experience with Object Oriented Programming and Web development.
MySQL/SQL, MVC, C#, ASP Dot Net, javaScript and Jquery etc.
Eligible candidates for dot net developer jobs with required qualifications and experience should send their updated Resume / Curriculum vitae (CV) by email at jobs@nsdevelopers.com as soon as possible.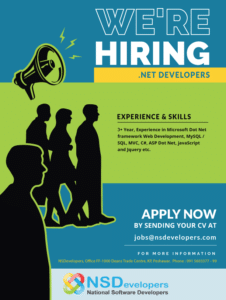 Hotline
Location
Office # FF-1000 Deans Trade Center Peshawar Khyber Pakhtunkhwa, Pakistan.